General information and bookings – in the first instance call 01825 740920 unless there is another number shown.
General enquiries email : info@ashdown-weekend.com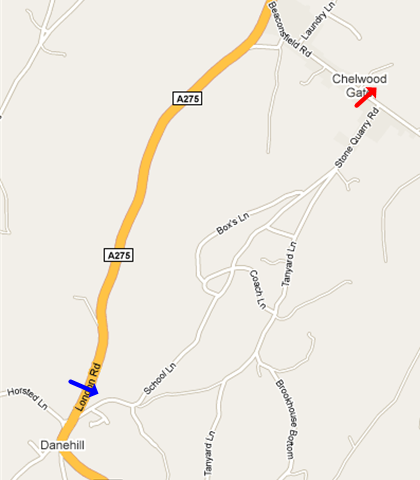 The main Ashdown Weekend takes place in the marquee on the Danehill Recreation Ground, access from the A275 just North of the Danehill Memorial Hall (blue arrow). There is ample parking at the recreation ground. There is no postcode for this entrance, however the postcode RH17 7HS will take you close enough to the entrance to see the signs directing you to car parking.
The Fun Run starts and finishes at Chelwood Gate Village Hall (red arrow) on Beaconsfield Road which is a 3-4 minute drive from Danehill. Parking at the village hall is more restricted.  The postcode for the village hall is RH17 7LF.
Chelwood Gate and Danehill are located approx. 2 miles south of the A22 from Wych Cross on the A275, within easy access of Haywards Heath, East Grinstead and Lewes.